How to hack into the growing Fast Food UK Industry
Discover the best tactics for success in fast food
The Fast Food Industry is one of the few channel sectors that continues to perform well in spite of any Brexit related economic downturn we may face; in this article we explore how fast food businesses can accelerate their growth by looking at examples of businesses that have taken advantage of trends to propel fast food profit.
What analysts say about the Fast Food Industry
According to market research firm MCA Insight, the fast food industry has doubled in growth over the past three years and is expected to be worth £9.8bn by 2021.
Research from the Office of National Statistics showed that the annual average spent on take away meals was £265 in 2018.
2019 will see £7.5bn worth of burgers and chicken eaten in Britain.
Last year there was a 40% increase in the number of consumers visiting chicken outlets and restaurants with poultry the most consumed meat from takeaways.
22 million 'flexitarians', vegans & vegetarians in the UK
British consumers are expected to spend 22% more on takeaway deliveries by the end of 2020, valuing the market at £5.8bn
The analysts paint a very rosy picture for the fast food industry with continued growth expected in a market where other sectors, such as casual dining, have struggled. There are factors driving this growth such as delivery aggregators, which we'll cover later, but for now, let's look at some of the other consumer trends helping to shape the quick service restaurant market.

Consumers are more aware than ever about their food; where it comes from, whether it's organic, its carbon footprint and various other environmental factors. New and improved manufacturing regulations have caught the attention of a wave of affluent consumers who can happily and 'guilt free' indulge; consumers are also willing to pay a premium for better quality food and ingredients. This trend is beginning to expand across the whole fast food industry. KFC are the biggest fast-food chain to comply to the new European Chicken Commitment for farmed chickens with competitors like McDonalds and Burger King expected to follow similar standards.
Deliveroo reported a 168% increase in the number of vegan restaurants on its platform over the past year whilst orders quadrupled over two years
The growth of vegan and vegetarian food has been well underway for a few years now, from supermarkets to takeaways, options are available everywhere. Growth is continuing to accelerate and supply is beginning to match the increased demand from veggies and vegans, Deliveroo reported a 168% increase in the number of vegan restaurants on its platform over the past year whilst orders quadrupled over two years.
As the demand for vegan food increases, major chains are exploring how to adapt their menus to appeal to the market. KFC's vegan friendly 'Beyond Chicken' sold out within 5 hours at their outlet in Atlanta. The vegan friendly nuggets and boneless wings proved popular with Americans, a traditional meat stronghold, and clearly indicate that major fast-food brands are experimenting with vegan options, so expect more choice to be available soon.
22 million people in the UK actively looking to cut down on their meat consumption
Another example of early innovators with vegan meat alternatives is Greggs, following on from their vegan sausage roll success (fastest selling product in 6 years), Greggs is looking to create vegan variations of popular products such as steak bake and doughnuts. JD Wetherspoon's also added its first ever fake-meat plant-based burger to its menu recently.
Growth in vegan and environmentally friendly food is not just a result of vegans, around 22 million flexitarians (those who seek to cut down their meat intake) exist in the UK so the market is appealing and worth-while to a vast majority of fast-food establishments.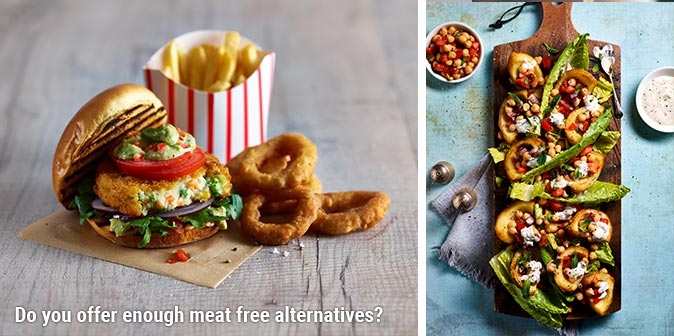 Takeaway delivery insight
Apps now account for 39% of takeaway and fast food deliveries and this is expected to increase according to consumer research firm NPD.
British consumers are expected to spend 22% more on takeaway deliveries by the end of 2020, valuing the market at £5.8bn.
We mentioned earlier that delivery aggregators are one of the factors driving growth in the fast food industry and the stats back this up. Apps now account for 39% of takeaway orders and is growing rapidly and consumer spend is also on the app. This is due to availability and convenience thanks for the delivery apps offering consumers greater choice in one place. These recent trends and the competitive nature of the industry have caused delivery services like Deliveroo, JustEat and UberEATS to become more adaptable.
British consumers are expected to spend 22% more on takeaway deliveries by the end of 2020
Deliveroo is innovating its business profile through offering a subscription service. 'Deliveroo Plus' costs £11.49 a month and in return customers receive free delivery and exclusive restaurant offers. The subscription strategy helps boost customer loyalty in an increasingly competitive industry, the £9bn merger between takeaway.com and JustEat proves just that.
Also, shared communal kitchens (aka 'ghost' kitchens) are cropping up in many towns and cities to serve delivery orders in the UK. The kitchens specifically help smaller chains to reach out to new customers in different cities without having to incur significant costs that come with expansion. Deliveroo have kitchens in 16 locations in the UK whilst UberEATS have just bought more than 100 across London.
In terms of market share within the fast food delivery industry, JustEat are by far leaders, their distribution spans across the whole country and Northern Ireland into suburbs and small towns (over 30,000 restaurants). JustEat have adopted a 'hybrid strategy' whereby they now offer a delivery service with a fleet of drivers, a risky but potentially profitable change in their business model that aims to maintain their already dominant market position.
Final Fast Food Industry Thoughts
Analyst research shows that the fast food industry is growing and much of this growth is down to less people eating out and more getting food delivered. Delivery aggregators have provided consumers with much improved availability and choice when searching for their next takeaway.
We know that many fast food operators have mixed feelings when it comes to delivery aggregators. On one hand they act as a huge 'shop window' for consumers to find them, but this exposure comes at a cost and finding that right balance is key. One area that many establishments in the fast food industry could maximise is their relationship with Google. Google still accounts for well over one million searches a month for people looking for takeaways near them. This is an audience that fast food businesses need to tap into by investing in a nice looking and easy to use mobile friendly website with online ordering. Once that's done, hire an agency or a good freelance SEO (search engine optimisation) contractor to boost your ranking on Google and increase sales via Google without paying commission for every order.
Also prominent in our research into the 2019 UK fast food industry was the continued growth of environmental factors. These environmental areas encompass veganism, the rise in flexitarians, people concerned about the origin and treatment of their food; it's all interlinked to a greener society. These audiences may only be a minority now, but it is an area that is growing rapidly and being able to cater for these groups with plenty of choice for vegans and vegetarians and using recyclable packaging instead of plastics provides fast food operators with new audiences to generate profit from.
If you'd like to receive more information about the fast food industry sign up to the Aviko newsletter today or follow us on Twitter - @AvikoUk.
Thanks for reading.
Carry on the discussion
We'd love to hear your thoughts on the Fast Food Industry. Are you seeing more vegetarians? Are delivery aggregators impacting your bottom line? Talk to us on Twitter or LinkedIn.