James Strawbridge Recipes with Aviko and Cornish Sea Salt
If you're searching for some exciting recipe inspiration then look no further
Celeb Chef James Strawbridge has created some fantastic tempting dishes using delicious Cornish Sea Salt flavoured salts and Aviko wedges, fries and diced potatoes. Over to you James...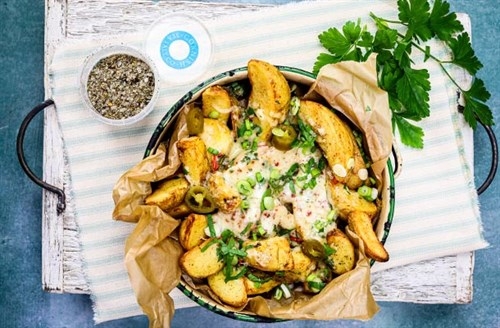 Dirty wedges with Mexican Sea Salt blend
These loaded, dirty wedges topped with Cornish Sea Salt Mexican seasoning blend are minimum effort for maximum flavour. Tailor the heat levels to your preference and load them up until your hearts content!
Ingredients (Serves 2)
500g Potato wedges
150g grated Cornish Cheddar
1 spring onion finely diced
1 tbsp coriander, chopped
6-8 Jalapeno slices
1 tsp Mexican Cornish Sea Salt seasoning
Method
Preheat your oven to 200˚C. Toss your wedges in a large bowl with your Mexican seasoning and roast your wedges for 15 mins on a tray.
Next add grated cheese and return to the oven for 10 mins until the cheese melts and the wedges are golden brown. Top with coriander, spring onions and jalapeno. Finish with a final pinch of Mexican sea salt.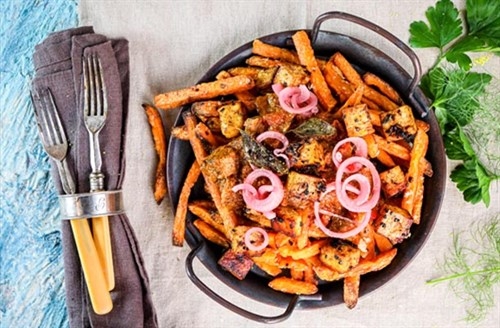 Masala Sweet potato fries with garlic salt
Spice up your sweet potato fries with this curried, garlicky, masala paneer topping for the easiest fakeaway at home! Spicy, tangy and sweet all rolled into one.
Ingredients (Serves 2)
For the spiced paneer
200g paneer cheese, diced
Handful of pink pickled onions
2 tbsp coconut oil
2 curry leaves
1 cardamom pod
1 tsp nigella seeds
1 tsp garam masala
1 tsp paprika
Pinch of Cornish Sea Salt Really Garlicky
Method
Season your sweet potato fries with roasted garlic sea salt and roast in the oven for 25 mins at 200˚C. Then toss with them in a bowl with a little pinch more salt.
For the paneer simply fry the cheese in a frying pan with spices until golden brown. Season to taste with garlic salt and top with pink pickled onions.
Skinny fries with sprout slaw and sea salt
Sprouts are not just for overboiling to go with your Christmas dinner! We'll challenge anyone who doesn't like this sprout slaw recipe that is indulgent whilst fresh. Take your skinny fries to the next level with a festive twist.
Ingredients (Serves 2)
For the sprout slaw
1 carrot, grated
1 apple, grated
8 Brussel sprouts, shredded
1 tbsp truffle mayonnaise
Pinch of sea salt flakes
Method
Bake your fries in the oven at 200˚C for 15-20 mins and season with Cornish sea salt flakes
Make the festive slaw by tossing the shredded veg in truffle mayo and seasoning to taste.
Top the golden fries with a generous handful of slaw and a spoonful of cranberry sauce.
Braised hispi cabbage and roasted potato with sea salt and peppery
Braised hispi cabbage works well as a veggie side dish or to create the perfect meat-free, mid-week meal with oven ready diced roast potatoes.
Ingredients (Serves 2)
For the braised cabbage
1 hispi cabbage, quartered lengthways
50g butter
1 tbsp rosemary, finely chopped
Zest 1 orange
75ml cider
150ml veg stock
Pinch of sea salt and peppery
To serve
Butternut squash puree
Chopped parsley
Method
Melt your butter in a large wide sauté pan and sear your cabbage for 4-5 mins to gently char on all sides. Then deglaze the pan with your cider. Reduce for 3-4 mins and add stock, rosemary, and orange zest. Season with a generous pinch of sea salt and peppery and cover with a lid to braise or make a cartouche with a sheet of baking parchment.
Cook on a medium heat for 15-20 mins until the core is tender and the stock reduces so that the cabbage is lovely and sticky. You can blowtorch to finish or flame grill over flames before serving.
Roast your diced potatoes for 20 mins and season with a good pinch of sea salt and peppery.
Serve the roasted potatoes on some squash puree and top with chopped parsley