Serving Non Alcoholic Beer
Here we will guide you through the incredible benefits, tantalizing mocktails, top non alcoholic beer picks and answer those burning questions you have about this rapidly growing market.
The rise of non alcoholic beer is not going unnoticed within the hospitality industry. The market for non alcoholic beer is expected to show a volume growth of 7.0% in 2024, which suggests that consumers in the UK are shifting their behavioural patterns of traditional ways of consuming alcohol and socialising.
There are many factors in why the non-alcoholic beer market is growing, the product is becoming more authentic, many consumers are becoming more cautious of their health especially the Gen-Z demographic and the normalities that associate itself with drinking alcohol are changing. It is important to understand the trends that the Gen-Z demographic are following which will be imperative to the success of your business.
Key Statistics of the Non Alcoholic Beer Industry
5.2 million fewer adults in the United Kingdom are drinking weekly in 2023 compared to 2021.
1 – in – 3 of adult pub visits do not include any consumption of alcohol.
25% of consumers will currently default to tap water in hospitality venues if they are not drinking alcohol.
£590 million is currently lost in revenue per year because visibility range and staff knowledge are not up to standard for low + no alcohol-free beverages.
Revenue in the Non-Alcoholic Drinks market amounts to £34 Billion in 2023. The market is expected to grow annually by 2.61% (CAGR 2023-2027).
Beer continues to dominate the UK no/low market, and commands majority share of the no/low space by both volume and value. The sector grew by 8% last year and is predicted to increase by 7% (CAGR 2022-2026) in volume.
The Benefits of Non Alcoholic Beer
The ever-increasing demand for non alcoholic beer has raised questions among consumers in society with the main one being, "what is the point of non alcoholic beer?" Consumers are enjoying this kind of tipple as it is much healthier to consume in comparison to an alcoholic beer. For instance, drinking non alcoholic beer can reduce your risk of heart disease, help you sleep, aid bone growth and reduce your risk of getting illnesses like the common cold. It also contains less calories than its alcoholic counterpart.
In the UK it is widely seen as a normality to drink beer at social events. However, with non alcoholic beer, it can help consumers 'fit in' whilst also supporting the beer and hospitality industries by purchasing such products. Consumers agree that it smells and tastes like an authentic alcoholic beer, with the negative attachments such as hangovers being eradicated by such non alcoholic products. Lastly, in most cases non alcoholic beer will be cheaper which leads to the next section.
Best Non Alcoholic Beer for Casual Dining
The market for non alcoholic beer is currently at all time high and with that, the authenticity and standard of the product is following. It is reported that 85% of UK pubs – equivalent to about 39,000 venues – now offer at least one low- or no-alcohol beer alongside their usual ranges of alcohol-free options. Some of the most popular non alcoholic beers include Heineken 0, Brewdog Nanny State and Brewdog Punk AF which are all served throughout the UK at Stonegate venues, the UK's largest pub company. Pair an ice cold Heineken 0 with our deliciously spicy Habanero Cheese Nuggets or a crisp Brewdog Nanny State with a perfect side of Beer Battered Onion Rings. For more pub menu ideas, indulge in our snackables range to find the perfect combinations for your non alcoholic beers.
Mocktails for your Menu
Consumers are searching for menus that offer non alcoholic beers and mocktails. The increasing thirst for beer that is not booze has been attributed to a growing desire among many individuals – particularly some generation Zs and millennials – to lead a healthier lifestyle. For example, The Alchemist has a wide range of offerings on mocktails at their venues. Some of the most popular beverages include, the Virgin Pornstar, Cos-No and CBD Spritz. It is important to include such options on your menu as mocktails are very popular and can attract consumers to dine and drink in your venue. Indulge in our appetisers and find the perfect for side for your mocktail menu.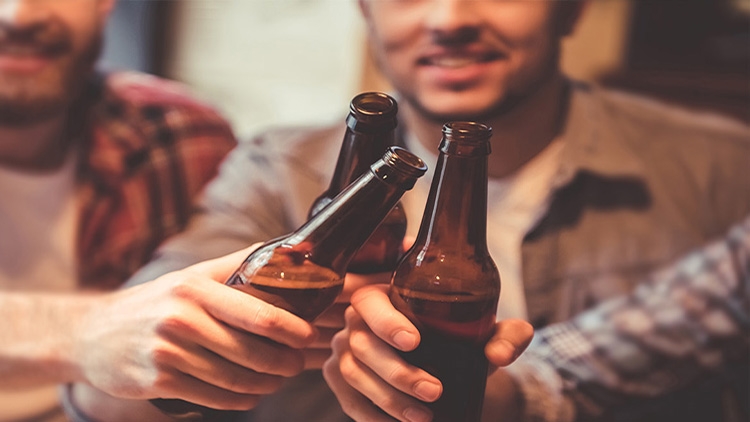 What Is Defined As Non Alcoholic Beer?
Alcohol-free: no more than 0.05%ABV
De-alcoholised: no more than 0.5% ABV
Low alcohol: no more than 1.2% ABV
This means that 'alcohol-free' beers can contain a very small amount of alcohol. But how much is 0.05% ABV? To give you some context, a pint (568ml) of 1% ABV beer contains just over half a unit of alcohol, which is why 0.05% ABV drinks can be labelled as alcohol-free. But across Europe and in the USA, 'alcohol-free' means anything under 0.5% ABV, so imported products can be labelled differently.
Is Non Alcoholic Beer Halal?
Whether or not non alcoholic beer is halal or haram has certainly brewed up a storm in recent years. The amount of alcohol present in non alcoholic beer is so minuscule that it is considered negligible.
Under Islamic law, it is haram to purposely intoxicate, however, the question is, are you consuming non alcoholic beer for this reason? Furthermore, some non-alcoholic beers are halal certified by organisations such as Halal Australia and the Islamic Food and Nutrition Council of America. For a product to be halal certified, it must not contain any alcohol beyond preservation purposes and pork by-products.
Serving Non Alcoholic Beer to Under 18s
A controversial question which has been fizzing up in the hospitality industry in recent times is the serving of non alcoholic beers to minors. Under the Licensing Act 2003, any drink that contains less than 0.5% alcohol by volume (ABV) is considered a negligible amount of alcohol and is therefore not classed as an alcoholic beverage, so legally under 18s can purchase non alcoholic beers in hospitality settings but not in supermarket as the sale of non-alcoholic beer to minors in stores are prohibited. This is because these establishments are considered as off-licenced premises, where the sale of alcohol to under 18 is prohibited by law.
However, many hospitality settings will ask for ID before purchasing and the constant checking of labels to see the alcohol volume can be very confusing for staff. This has led to many venues taking it upon themselves to not serve any non alcoholic beer to anyone under 18, unless they are accompanied by an adult and having a meal. A spokesperson for Mitchells & Butlers stated: "We do not allow the sale of non alcoholic beer, lagers or ciders to anyone under the age of 18".
Ruth Powell, the head of technical services for Marstons claimed that "any alcohol alternative should not be sold to anyone under 18". This comes after a man in Cambridge was barred from his local Wetherspoon after purchasing a non alcoholic cider for his 13 year old son. Some independent hospitality venues having taken a different approach. Uphouse pubs representative Martin Barnes said "I must admit it would feel strange serving a non alcoholic beer to someone under 18 but fundamentally it is a soft drink – so no harm.
To Conclude...
It is fair to say the hype of non alcoholic beer is not going away. It is slowly becoming a fantastic substitute for those who don't fancy an alcoholic beverage due the products authenticity almost being a carbon copy of its alcoholic counterpart. The future of non alcoholic beer will be fascinating, draught options will become more commonplace and even possibly cask ales will have non alcoholic pumps within hospitality venues. There is a great chance that we may even see the first non alcoholic pub being opened in the UK in the coming years.