6 tips to create your own stunning food photography
We asked the experts how to get the best food shots to showcase your delicious dishes
In today's social media-dominated world, it's never been more important for your food to look fantastic. They say people eat with their eyes and these days our eyes spend much of the day online, so if you get the imagery right your Instagram account and website can be a serious driver of business.
We asked award-winning food & drink photographers, Eat & Breathe, to provide advice about food photography to help you take stunning food shots to wow customers online.
6 Top Tips for DIY Food Photography from food photographer of the year Eat & Breathe
It's not all about expensive equipment. You can still get great results from entry level DSLR cameras and even phones - the majority are equipped with high resolution cameras.
Use natural light if possible. Don't be tempted to use your on-camera flash or phone flash. It washes out your photography and will make the most beautiful looking dish look unappealing. If you can, find a window/source of light that will give you a one direction light source that will create shadow, contrast and texture to the dish.
Master the best angles. The best angles are the bird's-eye view and the diners view. Get high above the subject (grab a chair if needed) and capture your shot from above and make sure the entire subject is in frame. Alternatively, come down low as if you are sat ready to eat. This angle will give you the opportunity to see the depth and detail of the food. Play around with the depth of field - the subject is sharp in the foreground with the background going out of focus.
4. Props are your best friend. Think like a food stylist and bring objects such as condiments, drinks, knives and forks, into the frame to enhance your composition and add some interest to your shot.
5. Play with space around your subject. Sometimes less is more. You don't need to fill the entire frame to get an amazing shot. Detailed images do look great but don't be against the dish only taking up a third of the frame. Placing the dish in front of a simple background works really well. Nothing too busy though. You want the focal point to be the food. Some backgrounds can fight with the food so keep it simple.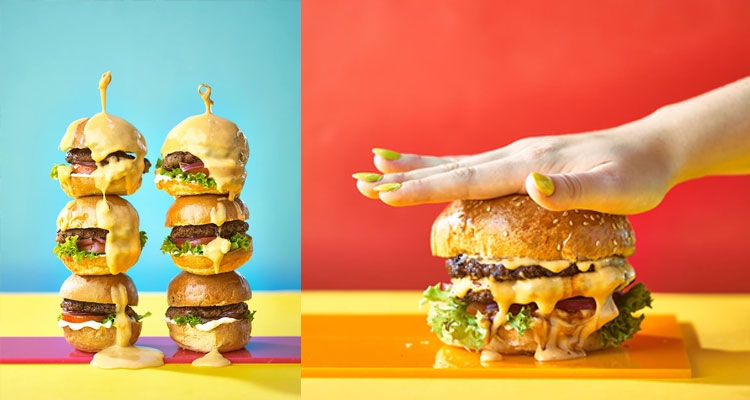 6. Take lots of pictures. It's better to take a lot and get one shot that you're really happy with than quickly grabbing one or two that come out poorly
Interested in finding out more? Sign up to our newsletter