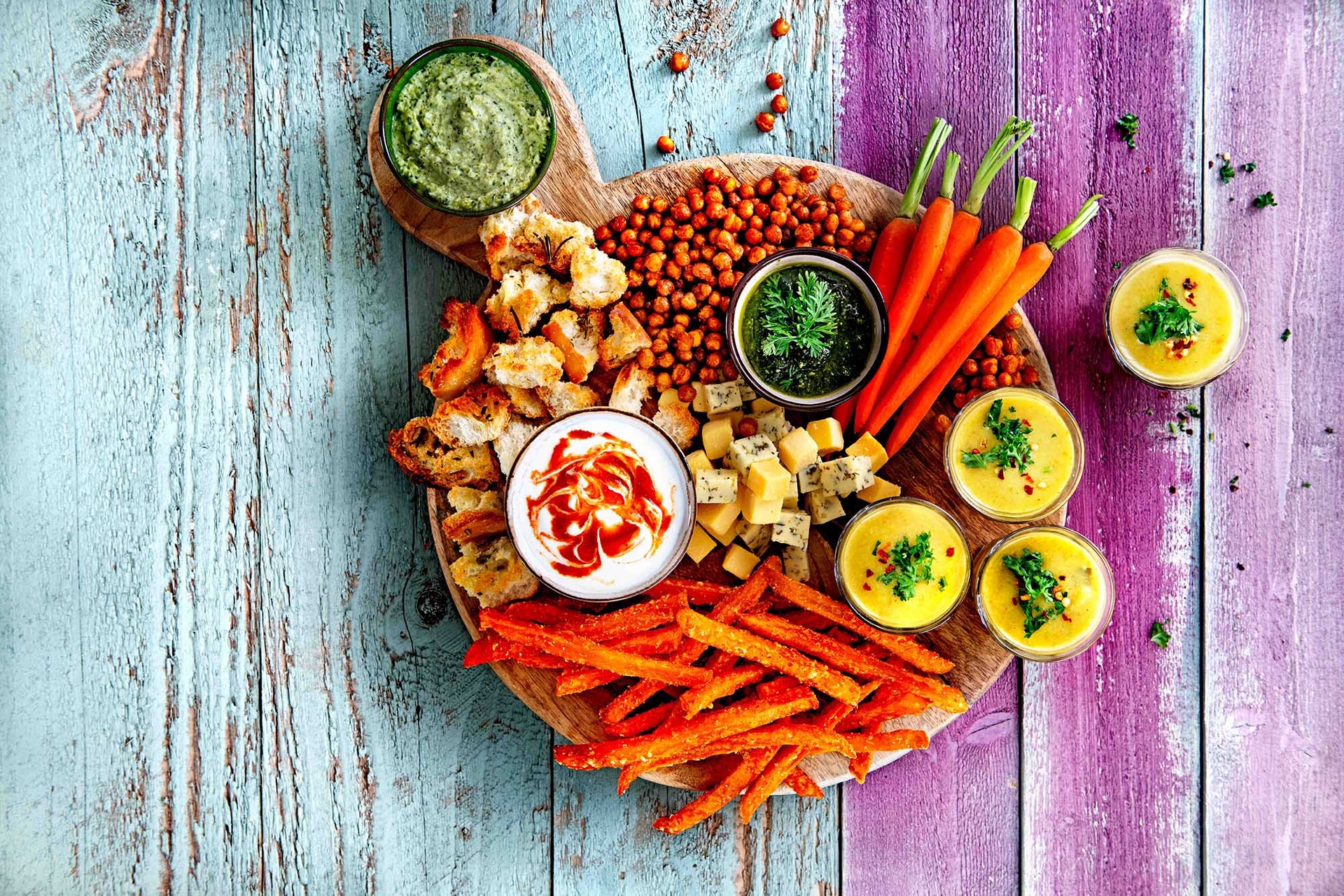 Sustainable Snack Platter
Serve a delicious zero-waste snack platter to use up leftovers.
Ingredients
300g Aviko Sweet Potato Fries
5 Carrots with tops
300 ml soup
200g Garlic croutons made from with leftover bread
1 serving of roasted chickpeas
200 g different types of cheese cubes from leftover cheese
Dips
1 portion pesto made from carrot tops*
1 serving of vegetable dip*
1 serving of Sriracha yoghurt*
Method
Cook Aviko Sweet Potato Fries as per packet instructions
Soup in a glass
Soup leftovers from the day before can be attractively served in small glasses (each approx. 75 ml).
Garlic croutons with sea salt
Preheat the oven to 180°C. Tear the day-old baguette, ciabatta or rolls into small pieces, then mix with olive oil, coarsely chopped herbs and sea salt. Spread the bread pieces loosely on a baking sheet and bake in the preheated oven for 8-10 minutes until crispy and golden. Allow to cool thoroughly and then store in an airtight container.
Roasted chickpeas (serves 4)
Preheat the oven to 180ºC. Drain 500 g chickpeas (can) and dry in a kitchen towel. Remove loose skins. Toss the chickpeas with 1 tablespoon olive oil, 1tsp smoked paprika powder, 1 tsp curry powder, 1 tsp garlic powder, and a pinch of salt. Spread out on a baking sheet and roast for 30-35 minutes until golden turning halfway through.
Carrot greens pesto (serves 4)
Puree 100 g green carrot tops with a clove of garlic, 50g pine nuts, 50g pecorino cheese a handful of basil leaves, 50ml olive oil and salt and pepper. Store in the refrigerator.
Vegetable dip (4 servings)
Puree 300 g boiled or roasted vegetables (from the day before) and 2 cloves of garlic with a blender or hand blender. Stir in 2-3 tablespoons of mayonnaise and/or crème fraîche and season with salt and pepper. Store in the refrigerator.
Sriracha yogurt (serves 4)
Mix 300g Greek yoghurt with Sriracha sauce. Store in the refrigerator.