How to stand out on ...
Read on for our tips on how to make your restaurant stand out and get customers clicking on your restaurant
Home delivery is the only foodservice sector forecast to grow well into next year and beyond. Consumer spend across the top 3 delivery aggregators; that's Just Eat, Deliveroo & Uber Eats, is growing by a staggering 58% year on year according to NPD Crest. But with more than 30,000 restaurants and takeaways on Just Eats' platform how do you stand out?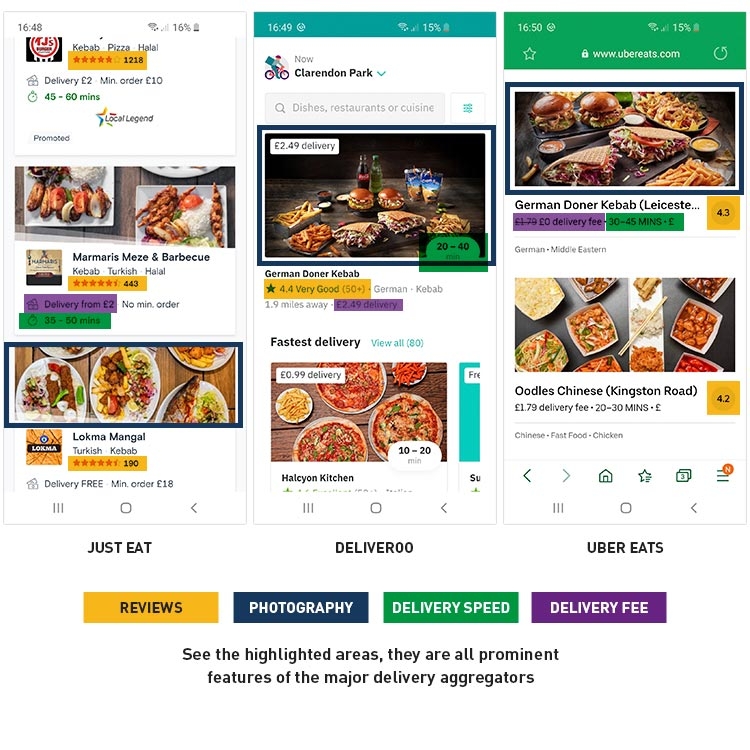 Run in app promotions
Promotional offers will help you get to the top of the Just Eat or Deliveroo page when potential customers are searching for what to eat. For even better results, link your promos with the offers that the delivery aggregator might be promoting across their platform and by email, for example Just Eats' Cheeky Tuesday 20% off all orders above £15. Whilst you cannot and should not always price promote, try offering a free item, such as prawn crackers if you're a Chinese Restaurant, with ever order above £15 or even 2 free sample Habanero Bites with every order above £15. This will be flagged up on the likes of Uber Eats getting you noticed.
Facebook Story Ads
A low cost way of getting in front of a sizeable audience is running Facebook story ads in your delivery radius targeting all those interested in Just Eat, Deliveroo & Uber Eats, you can narrow this down further to target those interested in the cuisine that you serve. Create a stella image / video and get in front of 1000's of potential customers in your local area guiding them directly to your page on the delivery platform where they can then buy. Although we would recommend you do set up your own ordering platform to avoid paying commission where possible. For a step by step guide on how to advertise on Facebook get in touch with us directly hello@avimedia.co.uk.
Reviews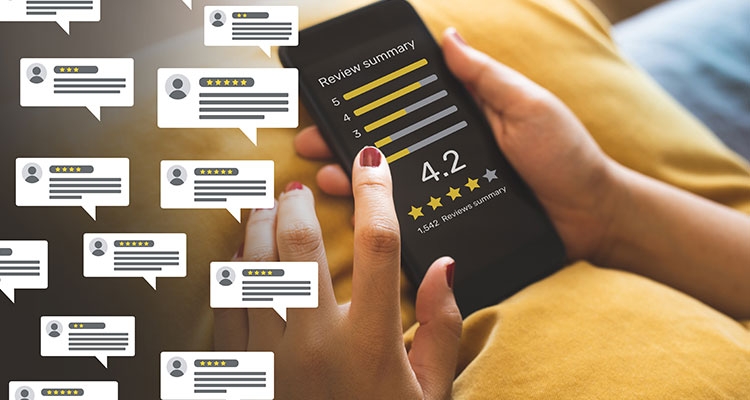 Highlighted on all delivery aggregators, prominently, are the reviews or ratings. The importance of this cannot be stressed, quite simply for a sustainable restaurant business focus on pleasing customers and driving those positive reviews which are a massive influence on whether a potential customer will select your business.
Food Photography
Just Eat have 1 primary photo representing your restaurant amongst the many other restaurants, you've all heard the saying 'we eat with our eyes' and this is true when customers need to make a decision on which restaurant to click. Make it the best possible photograph and representation of your quality food, for our top tips on food photography please click here. Deliveroo & Uber Eats will give you the option of individual dish photography- make this stunning and a true representation of your food and hear the sound of more orders coming through.
Meal Deals
Meal deals make it easier for your customers and potential customers to make a decision when ordering for themself, for 2 or the Family. When offering meal deals the likes of Deliveroo will flag this up helping you stand out to those that want to make a quick, easy menu decision or those looking for a good deal.
Delivery Time
According to our recent research, delivery time is most important to 28% of consumers*. You will see delivery time prominent on all platforms; Uber Eats, Deliveroo and Just Eat, so a quicker delivery time is another way to appeal to customers who order delivery because it is quicker than cooking at home.
Free Delivery & Min Orders
Delivery cost is also a prominent feature when customers are browsing through the choice of restaurants and flagging up FREE delivery is another tactic that will draw the customer's eye to your business. In addition, 'min order' amounts are something worth looking at closer especially if you want to appeal to a specific audience such as the 33% who order for just 1 person*.
Hygiene Rating
Hygiene is under the spotlight moreso than ever. Hygiene ratings for every restaurant are visible after a few clicks on the Just Eat platform and it is one of the factors that is important for 69%* when ordering food for delivery. Adhere to the standards of food safety and hygiene and give the Food Standards Agency & local authority every reason to give you a 5 after any inspection.
Dish Names
Don't be afraid to bring some personality into your food to give your customers an experience before they have even ordered. A simple Jerk Chicken Burger could be a St Martins Jerk Chicken Burger.
MOST importantly build your brand off the delivery platform
One of the most effective means of doing this is by setting up your own social media channels and website with drool inducing photography and videos to draw hungry eyes to your restaurant, don't forget to link where consumers can buy in your social channels and menus to ensure potential customers can interact and buy from you directly or through a delivery platform. Check out our tips on running your own effective social media.